XI All-Russian scientific Conference with VII international congress IMEOF «Ozone, reactive oxygen species, nitric oxide and high intensive physical factors in biology and medicine»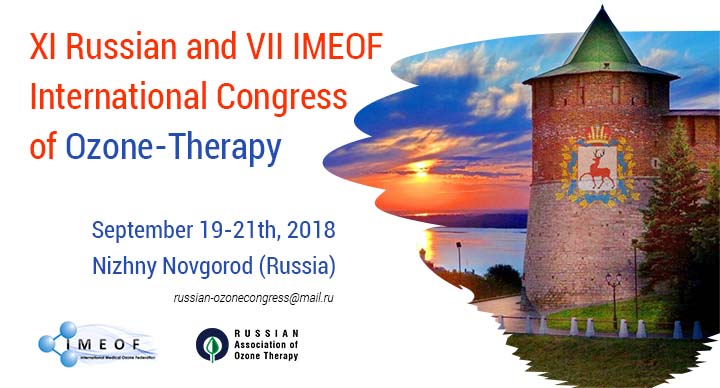 Dear Colleagues 
Health Ministry of Russian Federation, Privolzhsky Federal Medical Research Center,
Nizhny Novgorod State Medical Academy, Russian Federal Center of Nuclear Research Federal Scientific Clinical Center of Physical and Chemical Medicine, The International Medical Ozone Federation (IMEOF),
Russian Association of Ozone Therapeutists
glad to invite You on
XI All-Russian scientific Conference with VII international congress IMEOF
«Ozone, reactive oxygen species, nitric oxide and high intensive physical factors in biology and medicine»
(19-21 September 2018)
Main topics:
Ozone, reactive oxygen species, nitric oxide in adaptation, pathogenesis and sanogenesis. Oxidative stress.
High intensive physical factors in restorative medicine.
Antioxidants and reactive oxygen species as a pharmacological agents/
Clinical aspects of ozone therapy and ROS
Organizational and technical problems of ozone therapy in medicine.
Important dates
15/04/2018 – deadline to abstract submission
May 2018 – preliminary program
19/09/2018 – conference opening, plenary session
20/09/2018 – sessions work
21/09/2018 – official conference close ceremony
19-21/09/2018 – medical equipment's fair, restoration program
Official languages – Russian, English
Instructions for abstracts
All manuscripts must be sent to russian-ozonecongress@mail.ru , psp_aro@mail.ru
 Abstracts may be written in English (1 page — Arial, 12 pt, one-spaced).
Abstracts may be divided into the following sections:
Title (Arial, 14 pt, bold)
Author(s) name(s) (Arial, 12 pt)
Affiliation / organization (Arial, 10 pt)
Abstract text
Keywords (3-5)
Authors of accepted abstracts can offered a oral or poster presentation.
Abstracts will be published in special issue of «Revista Espanola de Ozonoterapia» (SJIF=3.952) and «Bioradicals and Antioxidants» Journals.
You are welcome on our Conference in Nizhny Novgorod (Russia)!